emubeads' unique handmade glass beads and silver jewellery
each handmade bead is an artwork.
there is little repetition unless required – pairs of emubeads have variance because of the handmade, it has an organic originality. much like identical twins are not even identical.
emubeads' unique designs : artisan glass beads
the handmade artisan influence is present with each emubead

the evolution of the humble bead as adornment dates back 70,000 years and was made from ostrich eggs to drilled bone and teeth beads 38,000 years ago. 8000 years ago, beads of semiprecious stones were being traded.

emubeads uses glass techniques with additions of pure silver, sterling silver, glimmers and recycled materials to provide their individual beauty.

i have a dedication to organic forms, giving glass a voice and the distinctive emubeads' appearance – a result of 17 years working at the flame. contemporary rather than historical, the colours, patinas, surfacing and shaping make each emubead one-of-a-kind.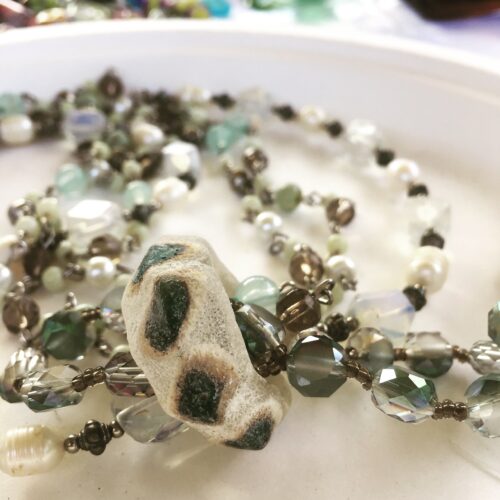 emubeads are a beautiful addition to any jewellery project.

or simply strung onto your favourite chain.

17 years of practise and experimentation is emubeads' techniques and designs

buy emubeads at markets

or learn jewellery making skills in our DIY workshop : up-cycle your loved, unworn jewellery/beads into a stunning new design.

view more emubead images on instagram or facebook or contact me directly for your enquiries