upcycle your jewellery box contents

recycle your old, loved beads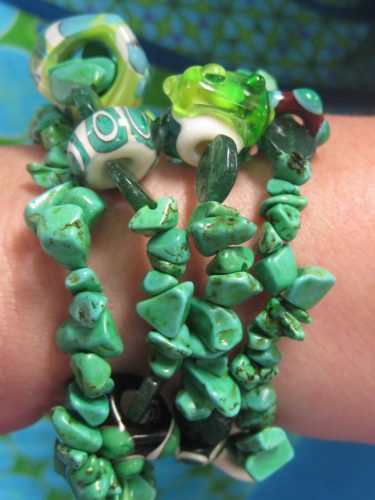 a revamp gathering workshop offers a creative time to breathe new life into your old, loved and collected beads by designing a new necklace/jewellery piece using what you already have.

it is an opportunity to value and reuse the collected and outdated jewels in your jewellery box; necklaces loved but no longer worn and broken necklaces of favourite times.
no experience is necessary.
at the end of the 3-hour workshop you will have a wearable piece of jewellery with memories woven through its length – our beads hold the stories of : who gave them to us and where we were when we bought them. the beads share the stories of the places and the people we were with. threading the beads together, the necklace becomes wearable history and a beautiful new moment.
each participant is provided with:
silky soft flex jewellery wire,
sterling silver crimp beads,
and tools to complete your new necklace.

extra emubeads can be purchased as required.

contact emubeads to book a revamp gathering workshop